Contact Information
County Fire Warden
Cory Cheguis – EMAIL
(406) 874-4024
Address – 1010 Main Street – Miles City, MT 59301
Hours – Monday-Friday: 8:00-5:00
Phone – (406) 874-3510
Fax – (406) 874-3511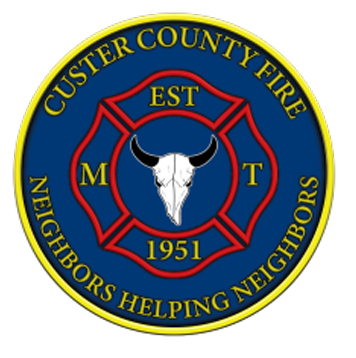 Custer County Fire Department responds to all Structure, Wildland, Vehicle and Hazardous Materials. Burn Permits are available to the public by stopping by the fire hall and picking up the paperwork or by applying online (see below). Training is every Monday night starting at 6pm at the fire hall. The public is welcome to visit the hall and speak with any firefighter.
We maintain a fleet of fire trucks and command vehicles consisting of:
Two structure pumpers:
1997 freightliner FL50 4X4 structure/ rescue engine
1995 KME 1000 gallon structure/ rescue engine
Four water tenders:
2006 International with a 2500 gallon tank w/PTO (FT 203)
2006 International with a 2000 gallon Tank w/PTO (207)
1989 Freightliner with a 3500 gallon Tank (FT209)
1980 Chevy 2500 gallon Tender (FT205)
Wildland Trucks:
Custer County Fire maintains a fleet of wildland Engines through the County Co-op program sponsored by Montana DNRC. This program provides 6 wildland engines to Custer County at no costs.
2021 Ford F-550
2021 Ford F-550
2016 Ford F-550
2008 Ford F-550
2012 Ford F-550
2013 Ford F-450
Custer County has 7 county owned wildland fast response engines that get strategically placed around the county for a fast response from local co-op partners. These trucks help get a quick initial attack on a wildland fire, while fire personnel from town respond. This program has proven to work in keeping wildland fires to an initial attack phase only.
Hazmat:
Custer County has two Hazmat response vehicles.
1989 Ford E350
1997 Ford E350
Partners in the DNRC County Cooperative Program
In areas outside of direct protection by a recognized wildland fire agency, the DNRC affirms wildland fire protection via a cooperative agreement between the county's Board of County Commissioners and the State. By formally partnering with all 56 Counties in Montana, DNRC ensures wildland fire protection on over 55 million acres of state and private land via an arrangement known as State/County Cooperative Fire Protection or "County Co-op."
The DNRC's fundamental intent in areas of County Coop fire protection is to build and maintain the capacity of local governments, so that local firefighters routinely succeed on initial attack and avoid the need for state assistance. The County Coop Fire Protection arrangement builds upon the fire suppression capacity of communities and local government. It has been a highly effective fire protection model in Montana for the past 50+ years and this success can be attributed to the partnerships and cooperation that exist across the state. Thousands of fires get contained and controlled each year without large-scale response by outside agencies.
Through the County Co-op arrangement, Montana Counties agree to provide the very basic level of wildland fire protection. The county and its firefighting operations organize, respond and perform both their respective Title 7 (Local Government Fire Protection) obligations and DNRC's Title 76 duties as outlined in MCA § 76-13-104 (1). This is supplied through a system of rural firefighting organizations and personnel including Rural Fire Departments, Fire Service Fee Areas, Volunteer Fire Companies and County Rural Fire Departments.
These county and local government fire forces provide the primary initial attack and, in most cases, extended attack on wildland fires in their jurisdiction/county. In return for this service, cooperating counties receive DNRC support in the form of organizational and technical assistance/advice, fire equipment, training, and direct fire control assistance when needed. When a wildland fire exceeds the capacity of the County, assistance is requested and the DNRC will mobilize to assist–bringing to bear the considerable resources of the State, its federal partners, and the interagency response system. This is all provided at no cost to the benefiting county.